9 Easy Ways To Earn Working From Home In The UK
Working from home over the internet and earning money online is the dream for many. We've realised that many people would prefer that lifestyle and through measures like social distancing many are required to work from their home office rather than their usual office. This is becoming a reality for thousands of workers across the world and many who have lost jobs during the global health crisis are looking for new ways to earn an income.  
Thanks to the internet, there are many legit ways to make money online working from home without or with minimal investment.  You can work virtually from anywhere, at home on your couch, at the hotel or co-working space, while mixing work with pleasure for a better work/life balance.
What are some simple Ways to Make Money Online?
1. Online Surveys
Major brands and companies are always seeking for research firms to help them understand the market dynamics better, gather feedback on a certain product, and so on so forth.  It's an easy way for you to make quick and easy money online just by conducting these online surveys on a given demographic or market segment.  The earnings are paid as cash or rewards.  Legit ones include Toluna, The Opinion Panel,  Panel Opinion, and Branded Surveys among others. For more info read Money Saving Expert's online survey guide  or ClickDo Make Money Online at Home Guide.
2. Video Gaming
Online gaming is another big money generator and Minecraft fanatics can turn their gaming passion and skills into cash. If you want to start earning through online gaming, you need to have a game server first. You need to invest time and effort to maintain and build the server to attract a dedicated community of other Minecraft players. Beginners can buy a Minecraft server from a reliable hosting provider like SeekaHost. Learn more about how to get started in the SeekaHost Minecraft Server Guide. Try these money-generating avenues once your Minecraft or game server is up and running:
Earn by streaming your gaming experience: Establish a YouTube channel and add a variety of content like expert tips, behind the scenes footage, etc. You can earn a decent income through the YouTube monetization scheme.
Players pay for using your server: Once you advertise your server and attract players to it, you can begin to charge them for the use. Charge a fee for an awesome world with great visual impact, expansions, mods and more. If users like your world, you can charge membership fees, where you could offer different packages depending on the play duration, features etc.
Create a "task-based" virtual currency program for players: Set up your game server so that players use a virtual currency to play. You can allocate a specific amount of virtual currency based on the tasks they complete. Tasks could be linked to your affiliate schemes and advertising contracts, encouraging players to download certain products. You could also get your players to watch your advertiser's latest ads or subscribing to their email lists for example.
There are more advanced ways to earn with Minecraft, which you can find out about in the SeekaHost Make Money With Minecraft Guide.
3. Start & Monetize your own Website or Blog
If you are interested in generating a passive income, why not have your own website? You can make money in your sleep, literally. Launching a website with web hosting companies like SeekaHost takes less than 60 seconds with the latest blog hosting control panel in the SeekaHost App; it's affordable and simple. Simply advertise your website on social media or Google to get your first visitors, and monetise your site. There are numerous guides and tutorials offering you step-by-step advice on how to start and monetise a website and what the advantages are for future careers and work projects:
4. Review Websites & Apps for Cash
If you are always online, why not turn pro and browse websites as a paid job? One such site of UserTesting.com is a new platform that rewards anyone to review various types of websites. Reviews often take less than half an hour and you get paid via PayPal. Compare more in this product and website testing guide.
5. Write and Publish a Kindle eBook
Anyone can publish an eBook and get paid via the Amazon Kindle store.  The app is now compatible with any smart device.  The key to success with eBooks is to create value, and write non-fiction mainly focusing on your own expertise, knowledge and skills to establish yourself as an expert in your field. Have a great cover designed to make it unique, and once your book is live in the Kindle store it's vital to have some reviews so it shows up higher in search results. Ask readers to leave a review after reading the book and advertise it on social media, search engines or your own website. You can see how ClickDoers do it or read the eBook Publishing Guide:
6. Do Affiliate Marketing
If you've a good following and are active on social media or you even own a blog or website, you can earn by promoting firms, products, services and offers online.
Sign up for different sites and check their offers or browse the merchant listings for something you think people might be interested in; get an affiliate link and share it. If someone uses your link to purchase you get a commission. Set up a website or a Facebook page and invite your friends to join it and post your affiliate offers there. Read a step-by-step guide about how to build an affiliate blog here:
7. Become a Translator
Translation has become a vital task as global trade has grown. Almost all business and personal documents need translation into English or various other languages for circulation among international clients.
To have a diploma or degree in the target language helps, but it is not mandatory. Of course, without certification, you would need to prove your grasp of the target language for translation in the first projects. If your work is good enough, then with experience, a great case study portfolio, and positive client reviews, the need for certification fades. Some online job websites and search engines also give you the option to show your skills through tests they provide. This can increase trustworthiness.
Of utmost importance is understanding that a translator translates not only words but also the spirit of the content and message a company or client wants to convey. Your web content, for example, must be more than the sum of the different content parts and reflect the sentiment of the original, but with a matching cultural angle. See how Alexandra Bekavac, a sworn translator in Germany, works as a freelance translator to understand more about how she earns a living from translating:
8. Become a Photographer
Your job as a photographer is to showcase your work, ideally on your own website. It's advisable to have a portfolio of previous photography projects you've worked on. With the help of tools like Adobe Illustrator or Visme, you can edit and optimize photos and images for multiple use such as websites, brochures, marketing or personal use. Bloggers, travel and food companies or marketing corporations are only a few of the long list of people who would be more than interested in purchasing your photos or book you as a photographer or editor for their projects.
If your images are popular, you can also sell them on stock photo sites like iStockphoto and Shutterstock. Once you upload and register your pictures, you receive royalties each time a third-party licenses your photos. This can create a useful side income. See how freelance photographer Petra Eujane runs her home business to earn with photography:
9. Buy and sell Domains
A domain name is just a website address and there are various extensions such as .com, .net, .co.uk among others. Go for domain names with commercial viability, acquire them up and then list them for sale on a site such as Sedo.com. Read this guide about acquiring expired domains and how to sell them:
There are many ways to earn working from home in the UK.  However, it can be difficult for some to stay focused and work on tasks at all times.  Write out a list of short-term and long-term goals that can motivate you.  After finishing each goal, reward yourself for the efforts.
For more inspiration around the topic of remote work and online monetization, check out more in-depth reads:
Many London Businesses are now also offering work from home jobs as a result of the pandemic and you can go through the infographic below to see if there are any positions that may be of interest to you. Read the full article for more information on the London Business News Blog.
Please include attribution to www.londonbusinessnews.com with this graphic.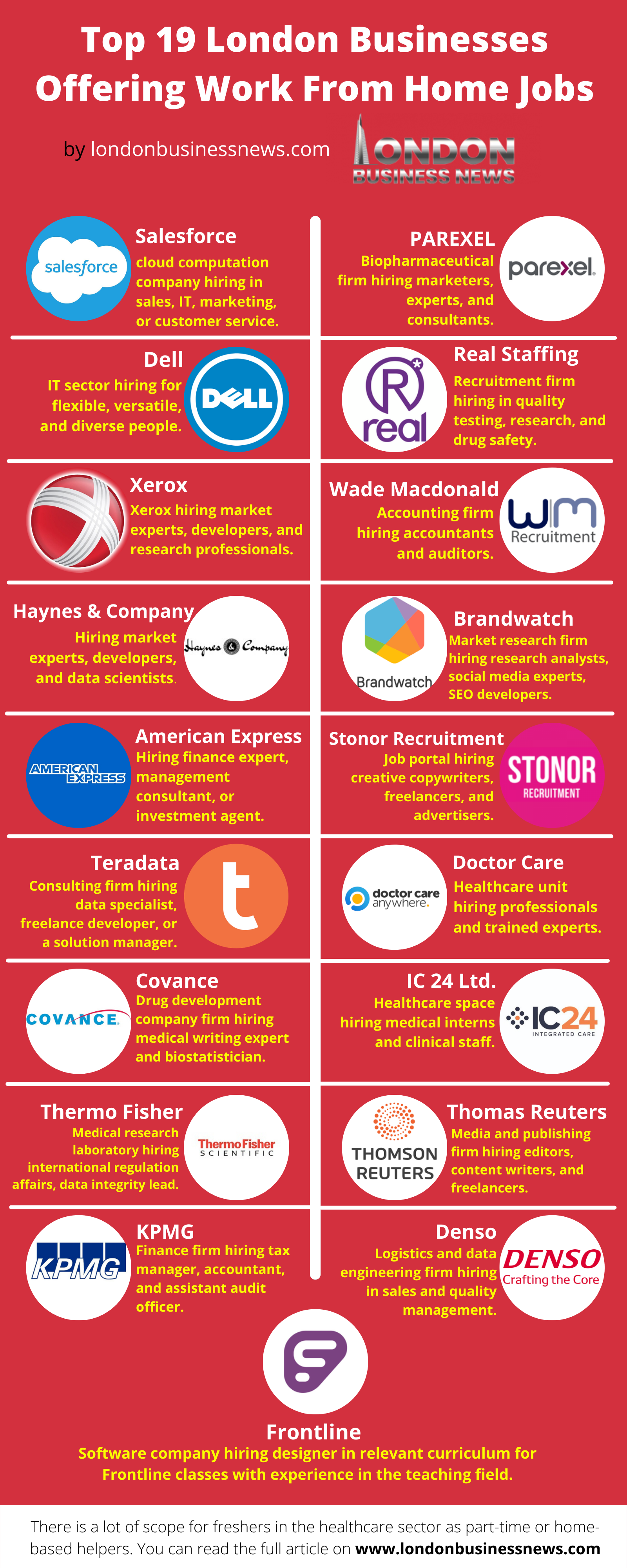 Share this Image On Your Site